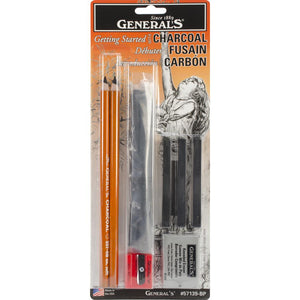 This package contains General Pencil's high-quality charcoal drawing essentials all in one package. Ideal for drawing class, painting, sketching, still life, portraits, landscapes, and more. Handcrafted for an extra smooth, rich, and intense black drawing formula
The two charcoal pencils are oil-free and blendable.

The three compressed charcoal sticks are versatile and can be used to sketch or to draw broads strokes by using the flat edge or sharpen for a detail point.

The four (small, medium, and large) willow charcoal sticks create velvety smooth charcoal drawings.

The kneaded eraser is ideal for erasing and highlighting.

The little red pencil sharpener is included to restore the factory point to your pencils over and over again.
Includes:
4B and 6B charcoal pencils

4 willow sticks

2B, 4B and 6B compressed charcoal sticks

Kneaded eraser

Sharpener